"Demagogue" Drumpf only has sinister, evil tools at his disposal: fear, greed, racism, etc. But the almighty tandem of Hillary Clinton + Elizabeth Warren = superpowers beyond the grasp of the failed businessman's tiny hands! For as my acupuncturist explained (more like a scientist) the higher frequency of light/vibration cuts through the lower one – the way a laugh shreds awkwardness to soup or an "F" bomb destroys a room full of smug fakeness; in essence, good literally does overcome evil.
And it makes sense. When you fight for something you believe in, backed by regular hard-working people that support you, not even a master lying manipulator stands a chance. Drumpf will never match the conviction of the Democrats, who actually stand for something.
Call it "the force," "swag" or even "God," but there's definitely something that backs up what's right.
Today, we celebrate our 240th birthday, so this shit is relevant as hell. America is already so damn great when we keep progressing forward – acknowledging the systemic racism brought on by hundreds of years of discrimination, climate change, our problems with gun violence & culture, respecting women and LGBT and worker's rights – not to mention health care. NOT when we let Drumpf divide us with white power rhetoric.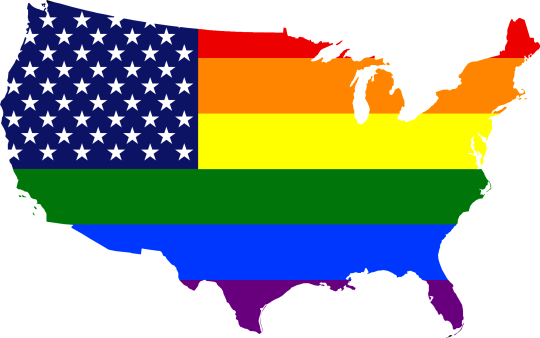 We all need help. Even Drumpf's companies, that we bailed out with bankruptcy time and time again. So like I said: look into the sky and enjoy the rainbow of colors, knowing just like our United States of America, how radiant and glowing they look together. For we benefit from the differences of our backgrounds, erupting in never ending evolution. WE ARE ALREADY GREAT. TOGETHER. LIGHTING UP The Sky.