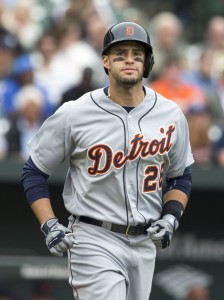 8-4 & 5-2, both wins upon returning home to Detroit.
8-4
Buck Farmer made his major league debut, starting the season in West Michigan for our Whitecaps after being selected in the 2013 draft. The Tigers trailed 4-1 but rallied for seven unanswered runs, starting with Alex Avila's solo homer. We took the lead on Nick Castellanos' shot to left-center and didn't look back.
5-2
Max Scherzer entered full oo7 mode with 14 strikeouts in eight innings. Goddamn. He gave up just three hits and threw 121 pitches. He ridiculed the reporter who asked him about pitching that ninth inning – "Are you serious? (as he's laughing, but serious) I can't believe you'd even ask that question. Should I throw 150 pitches and have my arm fall off?" Tell 'em, James. The offense was catapulted by J.D. Martinez, who launched a solo shot, walked in a run, and forced a bad throw to open up the last three runs.