Our city's own Ryan Fischer passed away in his sleep last night, the day his high school hockey team was to play in the state semifinals.
"Fischer, a senior, was a top student at Grandville and had been accepted by the U.S. Naval Academy and West Point, and was expected to begin at West Point with the Class of 2018 on July 2. He was one of eight student athletes from Class A schools across the state to receive an MHSAA student-athlete award this year.
He was a three-year varsity hockey player who also lettered in football and baseball. He served as captain of the school's hockey team and was named to the squad's leadership council and the OK-Red conference team" (MLive.com).
His family and the team decided together to still play the game.
The Michigan High School Athletic Association normally charges $10 to watch games on it's website for a day pass, but they made this game free of charge.
I saw the Grandville students taping their sign to the glass before the game started. They held a giant #11 in the student section.
The Bulldogs played hard for the whole game against a very tough Detroit Catholic Central team. Even trailing 3-0 at the end against a team that shutout eight straight teams earlier this season, Grandville's goalie stopped shot after shot. They never gave up, trying hard until the clock expired.
After the game, the players for Detroit immediately stood in line to shake their opponents hand. However, Grandville huddled for a moment by their own net in a circle. It was emotional to watch. After a pause, the CC players seemed to sense something and skated over to them like brothers, embracing their circle. It was an unbelievable moment.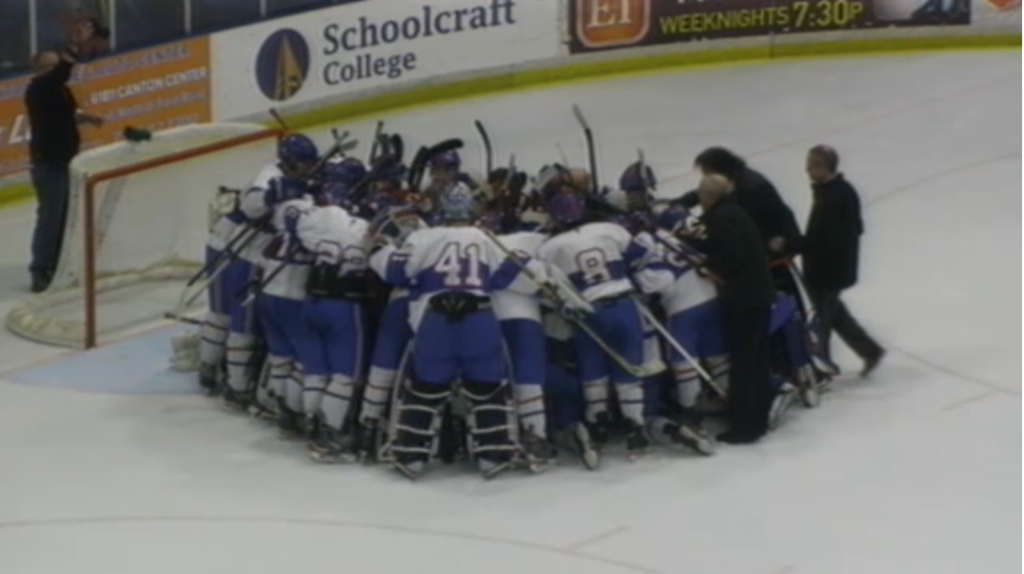 Everything seemed to hit home, and I began to cry. You could see it on the people's faces. I saw high school girls wiping away tears and hugging each other. That's the healing power of sports: we skated as hard as we could, and now that it's over, we're letting it all out.
As they filed out, the camera panned to the audience where some Detroit fans handed the Bulldog student section their sign that read, "We're With You, Grandville."
The announcer said, "These kids are all champions, and they don't even know it."