Stanford scored first and fast, taking a 7-0 lead in the 100th Rose Bowl against Michigan State.
They tacked on a field goal, but Spartie responded with a touchdown for a 10-7 game.
A pick six gave Stanford the lead at 17-7, but Michigan State again stayed resilient, scoring another touchdown before the half ended.
Down 17-14, State received the second half kick. They promptly tied the game on a field goal, 17-17.
The Spartan defense kept Stanford off the field, holding the tie until State punched in another score, a strike from the QB to the end zone.
Down 24-17, Stanford marched down with less than five minutes to go and settled for a field goal. 24-20.
Michigan State punted with around three minutes left. That set up a fourth and one for the Cardinals to stay alive.
One of the single best play's I've ever seen: the Spartan Stuff.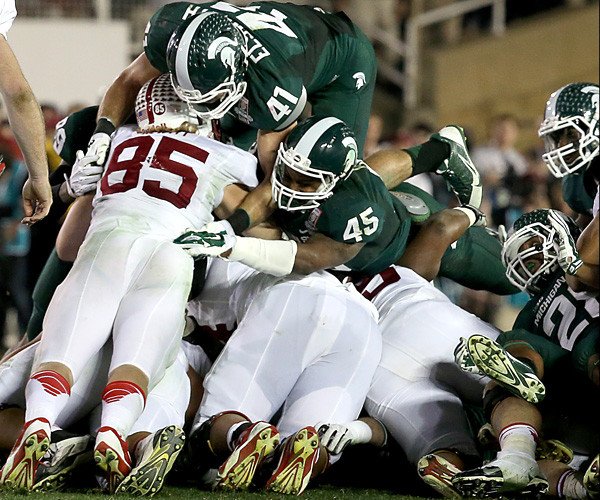 Three flying Spartans converged on the line of scrimmage to create an insurmountable wall, ending the possession on fourth down for Stanford and ending the game.
Michigan State IS the winner of the 100th Rose Bowl!