Rick Porcello joined his fellow staff in the 10-win club, starting for the Detroit Tigers en route to an 11-3 victory. All five Tigers starters have now won at least ten games in 2013.
The Tigers started with a quick 2-0 lead thanks to (Guess Who?) Miguel Cabrera and his two-run home run in the 1st inning. He turned on the pitch and dropped his bat, watching it tail just inside the left field foul pole with Austin Jackson on base.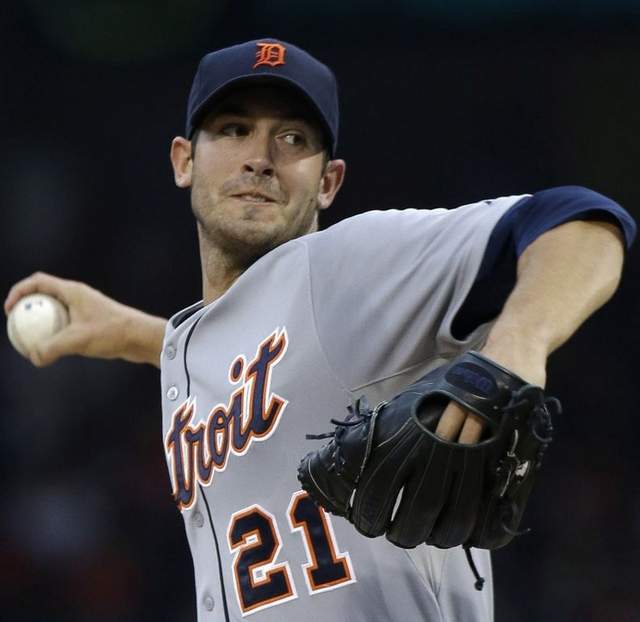 Ricky P walked the first Met to start the 3rd and 4th innings.
This is how fast the walk turns into a run: 1st batter walks on four balls. Next batter sacrifices the runner to second. Third batter grounds out, moving the walked Met to third base. Then, a Met singles for the first hit of the inning, scoring the walked snarf.
That was the 3rd inning. In the 4th, the walked snarf was outed on a double play. However, walking the snarf from a 1-2 count was indicative of poor pitching – an infield single and a home run in the next two at bats gave the Mets a 3-2 lead.
Andy Dirks decided losing wasn't for him, launching a two-run bomb of his own with that slap-swing of his. The 4-3 lead held until the ninth inning, when the Tigers batted around.
First, Victor Martinez singled home Torii Hunter with the bases loaded for a 5-3 lead. Then, Dirks drew a walk for another RBI.
The Mets pulled their closer for old man Met, who allowed a single to Omar Infante on his second pitch for a 7-3 score. During the next at bat, he threw a wild pitch, letting another run in before Ramon Santiago singled in a run for a 9-3 lead.
The wheels where coming off; Matt Tuiasosopo knocked a single up the middle on the first pitch he saw.
As Austin Jackson batted, the runners advanced on another wild pitch, setting up a sacrifice fly for the final run, 11-3.